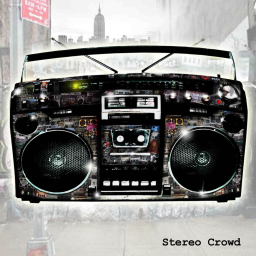 I'm just going to say it outright: I've never heard anything like Stereo Crowd. Have I heard bands with rappers? Yes. Have I heard rappers that use rock as a template? You bet. But Stereo Crowd doesn't really sit in one genre or another: this EP has rapping, but it also has more than a few rock out moments, pop hooks, soul grooving, and R&B performances. The only real genre definition is right there in the title: urban alternative.
Stereo Crowd have opened for Girl Talk before, and it isn't hard to see why on first song "I Got It". The song's infused with the same constant pace but free-spirited energy and willingness to follow whimsy that the mash-up DJ is known for; VFerg, Sciryl, Patty Cakes trade manic verses that crash right into Ava's trance-like "I got it" hook before she gets her own verse to close out the song. One of the impressive things about The Urban Alternative is how well it blends genres; standout "Who Do You Love?" (featuring Niki Darling) pumps R&B vocals with hard rock guitars and some punk-inspired drumming, not to mention a killer hook.
Stereo Crowd also turn the energy up on NYC punk-style freakout "Wish I Had a Girl Like You" (featuring Kalae All Day and George 2.0). Propelled by relentless drumming and a Julian Casablancas-esque vocal performance, not to mention Kalae's spitfire verse, the song flexes some serious muscle. Leaner but no less distorted are the dementedly poppy "Can't Wait" and "Wrongly Accused", which stomps like a vintage Beastie Boys cut. All throughout, the musicianship is tight while never letting up; the rhythm section of VFerg and Jamie keep songs grounded while guitarists Robert Keith and Paul-Anthony Surdi bring in buzzsaw-style riffs and some deft solos.
The most sedate moment on The Urban Alternative comes at "You Always" (featuring Ava), a slow-burning soul number. It's the least immediate cut on the EP, but has a high replay value because, while it might not thrash like other songs, Ava gives one of the standout vocal performances here, and the rhythm section excels. Stereo Crowd deserve to go somewhere, and naming the EP's closing optimistic, grooving cut "Up and Away" (featuring Kristen White and Freddy Fuego) hints that they damn well know it.
Even with the great musicianship and the wide-set genre roulette, Stereo Crowd succeed because they sound so cohesive. The band takes opposing, potentially clashing, styles of music and mash them together so completely that they sound logical instead of gimmicky, and fluid instead of stiff. They not only play well together, but have great chemistry with their featured artists (all of whom write quite well, as do VFerg and Paul-Anthony of the band proper), and as a result, The Urban Alternative sounds like a communal success as well as a personal one. Anyone who likes rap, hip-hop, indie, R&B, or rock will find something to like here, and it's one of my favorite New Music records hands down. Check these guys out.
Like Stereo Crowd on Facebook to stay in touch, or buy The Urban Alternative here!