It's Day 5 of Listmas here at Ranting About Music, and today, we're breaking away from the pop world to look at some of the best up and coming music I've heard this year! 2012 was the year that the site's "New Music" section really took off, and I wanted to highlight the groups that made some of my favorite records of the year.
3. I Used To Be a Sparrow – Luke
Reverb-friendly, tuneful indie rock isn't revolutionary, but when it's done as methodically and as well as Swedish/Italian duo I Used To Be a Sparrow do it on Luke, you remember why you loved it. From the "Oh oh whoa"s and soaring vocals of single "Life Is Good" to the lush "Lovers on the Moon" to the propulsive rush of "Alaska", Luke's an end-to-end delight that never falters. The guitar/drum combo is layered and textured, the melodies are great, and the production is blissfully isolating. Give Luke a listen on the band's bandcamp page, or click below to hear "Life Is Good".
2. Pebaluna – Carny Life
I absolutely love artists who were clearly music fans before they became creators. Their work has a level of craft, care, and unfettered enthusiasm that you won't find elsewhere, and when they're good, they hit it out of the park. Indie collective Pebaluna is one such band, and their ten track debut Carny Life follows the acoustic band as they blend jazz, blues, and soul influences without any missteps along the way. Quieter moments like "Sister Sara" and "No, I Can't" are tempered with explosive tunes like "Please Me" and the Motown bounce of "Hopeless". There's something for everyone here; check out opener "All Falling Down" below.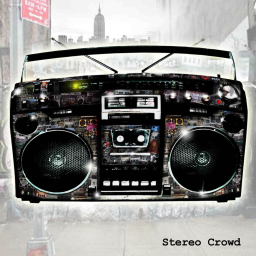 1. Stereo Crowd – The Urban Alternative
Before listening to The Urban Alternative, I was starting to think that mixing genres like hip-hop, punk, soul, and rock in a great way wasn't doable. I've never been so happy to be wrong. Brooklyn based Stereo Crowd grabs the best of those genres: muscular and tight rock arrangements with strong beats, great soul hooks, frenzied punk rock energy, killer rapping from multiple MCs, and cut any fat off of The Urban Alternative. The band and a small army of collaborators play the hell out of every second of the record, and there's never a dull moment to be found. 2012's a year where opposing genres are melding together to create something new and fresh, and no one did it better than Stereo Crowd, making this the best New Music of 2012.
Ranting About Music Listmas Schedule
Dec. 16th: Worst Hits (10-6)
Dec. 17th: Worst Hits (5-1)
Dec. 18th: Best Hits (10-6)
Dec. 19th: Best Hits (5-1)
Dec. 20th: Best New Music
Dec. 21st: Best Albums
Dec. 22nd: Odds 'n Ends