We're back with the latest edition of "On Yr. Radar", a sampler of some of the best new music I've been sent lately. These selections were handpicked, and wouldn't be here if I wouldn't play them for myself or my friends. Click the artist – song name to stream any of these great tracks, and keep in touch with anyone you hear and like!
Black Light Dinner Party – Your Drums, Your Love (AlunaGeorge Cover)
The original single by AlunaGeorge might have registered as a Best New Music at P4k, but I'm more partial to Black Light Dinner Party's more rhythmic and fully formed take on it. This R&B tinged, hip-hop beat friendly type of synthpop has been in the indie wheelhouse for awhile, but "Your Drums, Your Love" stands out on its slowburning chorus of smooth synths and cooing vocals (not to mention being immensely catchy). Even better, Black Light Dinner Party have it on their Facebook page as a free download. Fans of Purity Ring will want to give this a spin.
Alice and the Glass Lake – Higher
"Higher", off of Alice and the Glass Lake's new EP The Evolution EP, is a fitting name for a song that sounds eternally floating. Alice Lake's ethereal vocals and harmonies reach out in every direction while a martial drum beat keeps the song grounded. Piano and shimmering guitar creep in and out of the song's atmosphere, and a darker bassline adds tension and a dark undercurrent to the song's light and breezy appearance. If you're Bonnaroo bound, check out Alice and the Glass Lake live on Sunday. The rest of us can preview and buy The Evolution EP on iTunes.
Bobby V – Back to Love

R&B artist Bobby V's been making music since 2005, and "Back to Love", the lead single from his upcoming EP Peach Moon, is loaded with consummate professionalism, but never at the expense of the music. The easy beat is a headbopper, and the instrumentation of piano detailed with horns and soulful guitar is nothing but classy and effortlessly cool. V's a showman through and through, guiding the loose track through soulful vocals. Check Bobby out on Facebook, or get "Back to Love" on iTunes.
Mixtapes – C.C.S.
I'm inclined to root for fellow Cincinnatians, and pop-punk group Mixtapes only makes the job easier. The group has made for itself by cranking out one to three minute confessionals disguised as obscenely catchy and likeable songs. Last year's Even on the Worst Nights distilled a slew of splits and EPs into a universally aclaimed record, and Mixtapes looks to continue the winning streak with this year's Ordinary Silence. "C.C.S." slows the band's normal pace somewhat, but puts the focus entirely on the lyrics, which focuses on self-reflection and improvement, even if doing better is "temporary". Ordinary Silence is up for pre-order at No Sleep Records' site.
Rob Moir – Places to Die (Before You See The World)
Folk punk's a genre that lends itself well to one-man anthems, and Rob Moir's "Places to Die" more than fits the bill. Moir's song about freedom and mortality is loaded with Springsteen-inspired working man lyrics, and is backed by an acoustic/electric guitar duo and stomping drums. By the time he gets to his last cries of "I don't wanna die in a hospital", you're chanting along with him. Stream or buy his new album Places to Die here.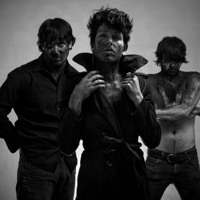 Cusses – Worst Enemy (+Fundraising opportunity)
"Worst Enemy" is one of the several explosive, arena-alternative rock cuts off Cusses LP1. The record is an exercise in rock and roll mythos, and Cusses deliver the songs and the attitude to make LP1 more than hero worship; they don't want to revel in rock legacy, they want to add to it. Of course, they're a rock band, so their idea of "adding to legacy" is bashing out ten manic rock songs without refusing to take a breath between riffs. Cusses are looking to Kickstarter to get LP2 off the ground. If want to hear more, give their excellent first album a listen, and ignore your Starbucks for a day to give a few bucks to LP2. I know I did.